VIIth MULTILATERAL KANT COLLOQUIUM 2017: CALL FOR PAPERS
The Immanuel-Kant-Forum at Martin-Luther-University Halle-Wittenberg (MLU), in collaboration with "Kant-Gesellschaft", "Aufklärung – Religion – Wissen" (MLU), "Interdisciplinary Center for the European Enlightenment" (MLU) and "Kant- Forschungsstelle at Johannes Gutenberg-University Mainz", invites submission for the VIIth Kant Multilateral Colloquium to take place at Halle/Saale (Germany) on April 28-30, 2017. The day of arrival is April 27, the day of departure May 1.
The theme of the colloquium is: Kant und seine Kritiker – Kant and his critics – Kant et ses critiques. Papers may include discussions of any aspect of Kant's philosophy and its critique from Kant's time to the present.
The Multilateral Colloquium involves approximately fifty five participants, about 15 of them will be invited presentations. The official languagues are German, English, and French; however, participants can choose to present their papers in Portuguese, Spanish, or Italian, provided a version in one of the official languages is available, too. Due to the traditionally multilateral dimension of the Kant Colloquium and its origin, the selection committee is particularly interested in submissions from participants working in South America, Portugal, Spain, and Italy.
The selection committee is an international group of Kant-scholars and is chaired by Professor Heiner F. Klemme (MLU).
The deadline for submissions is October 1, 2016. Notices of acceptance will be issued by December 1, 2016. Please send all papers electronically to Dr. Antonino Falduto at Antonino.Falduto@phil.uni-halle.de
Submissions should be prepared for blind review and be limited to 4400 words, including footnotes and references (longer submissions will not be considered). Please send your file in PDF format, include an abstract of a maximum of 400 words, and a word count at the end of the paper. Contact information should be sent in a separate Word or RTF file.
Presentations cannot exceed 50 minutes (30-35 minutes reading time, followed by 15-20 minutes of discussion).
There will be conference fee of € 30,-
Kant Multilateral Colloquium
The North American Kant Society welcomes the Kant Multilateral Colloquium, to take place at Hofstra University (Hempstead, NY) on August 7-9, 2016.
http://www.hofstra.edu/community/culctr/kant-multilateral-colloquium.html
The theme of the meeting is: Kant on Violence, Revolution, and Progress: Historical, Political, and Metaphysical Themes. "Revolution" and "progress" are interpreted broadly, in order to include not only their historical or political meaning, but also Kant's "Copernican Revolution" in metaphysics, science, aesthetics, religion, etc.
The Multilateral Colloquium is an annual conference involving approximately forty participants from Brazil, Spain, Portugal, Italy, Germany, and, more recently, the USA and Russia. This is the first time the meeting will be hosted in the USA. Each of the seven participating countries will be assured up to five slots for speakers.
The North American Kant Society (NAKS) was founded in 1985 at the Sixth International Kant Congress, held at the Pennsylvania State University. The goal of the society is to further the study of Kantian thought and scholarship from a variety of traditions and disciplines. For this purpose, we organize multiple activities (regional study groups, APA meetings, publications, prizes, etc.), which help students and scholars at different stages of their careers to interact and share their work in an atmosphere of both cordiality and philosophical rigor.
Hofstra University is a nationally ranked and recognized private university in Hempstead, N.Y. that is one of only two universities chosen to host consecutive presidential debates (2008 and 2012). At Hofstra, students get the best of both worlds. Our campus is a leafy oasis just a quick train ride away from New York City and all its cultural, recreational and professional opportunities. We offer small classes and personal attention, with the resources, technology and facilities of a large university, including the Maurice A. Deane School of Law, the Hofstra Northwell School of Graduate Nursing and Physician Assistant Studies, and the Hofstra Northwell School of Medicine. Hofstra University is a dynamic community of more than 11,000 students from around the world who are dedicated to civic engagement, academic excellence and becoming leaders in their communities and their careers.
CTK E-BOOKS
CTK E-Books will publish cutting-edge Kant-related individual and collective essays and commented translations of Kant's Writings, in Spanish, German, English, French, Italian and Portuguese. The main editors of the four series of the publishing house will intensively care about the quality of CTK publishing. Before submitting any manuscript, authors and editors of collective volumes are kindly ask to send the corresponding main editor a summary of the proposal, with a table of matters and, if necessary, a list of authors with the abstract of their chapters. All submitted manuscripts will go through a fast and responsive peer review process, which will involve an international board of prestigious senior Kant scholars. If the peer review process recommends publication, we will then proceed to the formal approval stage, submitting a summary of the proposal to some members of CTK E-Books Advisory Board, whose function will be to endorse the peer reviewer's recommendation and to convey additional remarks. The main editors of each series will keep the authors and editors posted about the steps of this stage.
If the proposal is definitively approved, the main editors will contact authors or editors to agree and sign the contract. A copy of CTK E-Books style guide will also be sent to authors or editors at this stage. The books published by CTK E-Books might be printed on demand. Submissions should be sent to the following e-mail: contextoskantianos@gmail.com
Advisory Board
Maria Lourdes Borges (UFSC, Brazil)
Alix Cohen (Univ. of Edinburgh, UK)
Bernd Dörflinger (Univ. of Trier, Germany)
Claudia Jáuregui (UBA, Argentina)
Robert Louden (Univ. of Southern Maine, USA)
Carlos Mendiola (Univ. Iberoamericana, Mexico)
Pablo Oyarzún (Univ. of Chile, Chile)
Lisímaco Parra (Univ. Nacional de Colombia, Colombia) Hernán Pringe (UBA, Argentina)
Gérard Raulet (Univ. Paris IV, France)
Paulo Tunhas (Univ. of Porto, Portugal)
Howard Williams (Univ. of Aberystwyth, UK)
Editorial Board and E-Book Series
Roberto R. Aramayo (IFS/CSIC, Spain) — Main Editor of the Translatio Kantiana Series
María Julia Bertomeu (Univ. Nacional de La Plata, Argentina) — Main Editor of Quaestiones Kantianas Series
Nuria Sánchez Madrid (UCM, Spain) — Main Editor of Hermeneutica Kantiana Series (Monographies and Individual Essays)
Pablo Muchnik (Emerson College, USA) — Main Editor of Dialectica Kantiana Series (Collective Volumes)
1. Translatio Kantiana E-Book Series
The Translatio Kantiana Series seeks to make available to Kant scholars and PhD students commented translations of different Kant's Writings into Spanish, German, English, French, Italian and Portuguese.
2. Quaestiones Kantianas E-Book Series
Quaestiones Kantianas aims at retrieving classical interpretative essays focusing on different features of Kant's thought and work, in their original language or translated for broadening the scope of some of these essays.
3. Hermeneutica Kantiana E-Book Series
Hermeneutica Kantiana Series seeks proposals that will bring to a multilingual audience interpreting essays regarding all areas of Kant's critical thought.
4. Dialectica Kantiana E-Book Series
Dialectica Kantiana Series enhances discussing essays of the Kantian legacy, gathered in collective volumes, focusing on subjects tackling key ethical, political and social challenges that may help us to better assess the problems of our present time.
Revista Con-Textos Kantianos, n. 2 (2015)
http://con-textoskantianos.net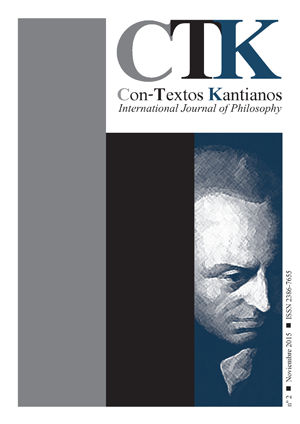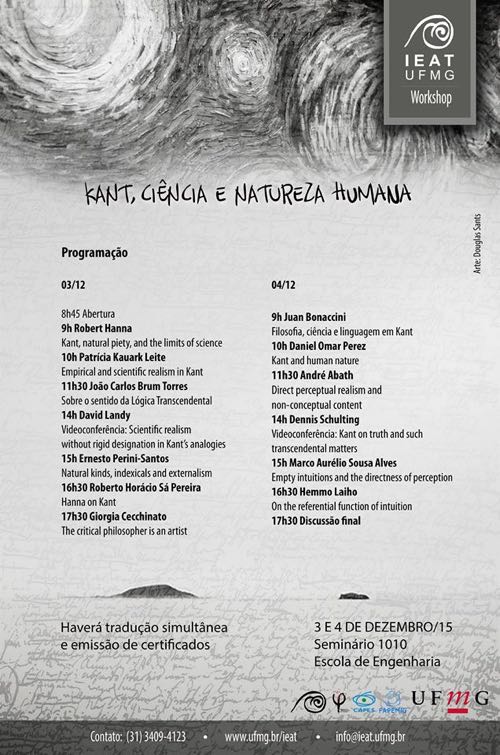 [Clique na imagem para ampliar.]
Temos o prazer de anunciar a publicação pela Editora Olms – Wiedmann (Hildesheim-Zürich-New York) do livro Kant and the metaphors of reason, organizado pelas professoras do Departamento de Filosofia da UFMG Patrícia Kauark-Leite, Giorgia Cecchinato, Virginia Figueiredo e Alice Serra; e pela professora Margit Ruffing da Universität Mainz (Alemanha).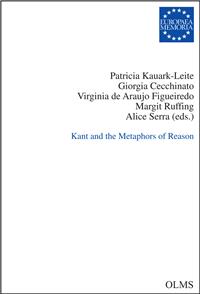 O livro resulta da recente iniciativa de um grupo internacional formado por filósofos e estudiosos da obra de Kant, incluindo muitos membros da SKB, que vêm se reunindo para promover a investigação de tópicos ainda inexplorados pela pesquisa acadêmica, como é o caso da metáfora na filosofia kantiana, tema ao qual o livro que se dedica.
http://www.olms.de/search/Detail.aspx?pr=2008522
Studia Kantiana
n. 18 (2015)
http://www.sociedadekant.org/studiakantiana
Sumário
Artigos
Agindo por "razões"
Darley Alves Fernandes
Kant e a ideia da Aufklärung
Keberson Bresolin
The paradoxes of Enlightenment. A rhetorical and anthropological approach to Kant's Beantwortung
Jesús González Fisac
Sobre a exposição metafísica dos conceitos de espaço e tempo
Edgard José Jorge Filho
A filosofia cosmopolita de Immanuel Kant
Diego Carlos Zanella
Cualidad y realidad en la tesis de la segunda antinomia
Miguel Alejandro Herszenbaun
A concepção de sistema em Kant e Fichte
Luís Eduardo Ramos de Souza
O problema do universalismo estético em Kant e Bourdieu
Ricardo Barbosa
A metafísica freudiana: um estudo para a demarcação metodológica da filosofia freudiana a partir de Kant
Eberth Eleutério dos Santos
O jogo livre da imaginação é compatível com a dedução kantiana das categorias?
Hélio Lopes da Silva
Tradução
A importância das Reflexões sobre o otimismo para o desenvolvimento intelectual kantiano. Tradução e texto introdutório
Bruno Cunha
Revista Estudos Kantianos, V. 3, n. 01 (2015)
Acesso à integra da revista: http://revistas.marilia.unesp.br/index.php/ek/issue/view/320/showToc
Sumário
Palavra do Editor/Editor's Note
Palavra do Editor
Ubirajara Rancan de Azevedo MARQUES
Estudo em destaque/Scholarship Highlight
"The Platonic Republic." The Beginnings of Kant's Juridico-Political Philosophy in the Critique of Pure Reason
Günter ZÖLLER
Artigos/Articles
Some Implications from the Primacy of the Good Will
Julio ESTEVES
When the strictest right is the greatest wrong: Kant on Fairness
Alice Pinheiro WALLA
Remarks on "the Only Original Right Belonging to Every Man by Virtue of His Humanity"
Andrea FAGGION
Defending Kant after Darwin: a Reassessment of Idea for a Universal History with a Cosmopolitan Purpose
Luigi CARANTI
Philosophy of History of Adam Ferguson and Immanuel Kant
Sandra ZÁKUTNÁ
Freedom of the Press: a Kantian Approach
Joel Thiago KLEIN
Antropología Crítica y Lenguaje Común o del Suelo Lingüístico de la Experiencia Antropológica en la Lectura Foucaultiana de Kant
Marco DÍAZ MARSÁ
La notion de 'système' chez Wolff, Lambert et Kant
Henny BLOMME
Kant e il Fondamento Cercato del Sapere. A Partire Dalla Polemica con Eberhard
Giulio GORIA
The Imagination in Kant's Philosophy and Some Related Questions
Olavo CALÁBRIA
Fortschritt zum Besseren oder Zukunft einer Illusion? Freud und Kant als Aufklärer.
Margit RUFFING
A Faculdade de Filosofia e a Prática do Uso Público da Razão
Vera Cristina de Andrade BUENO
Resenhas/Reviews
A Forma e o Sentimento do Mundo, Jogo, humor e arte de viver na filosofia do século XVIII, de Márcio Suzuki. Editora 34, 2014.
Márcio Benchimol BARROS
Bernd Dörflinger, Claudio La Rocca, Robert Louden, Ubirajara Rancan de Azevedo Marques (Ed.)
KANT'S LECTURES / KANTS VORLESUNGEN
[KANT'S LECTURES]
http://www.degruyter.com/view/product/260919
Although they were not written by Kant himself, the transcripts of his lectures constitute an important source for philosophical research today. Some of the contributions presented in this volume discuss the authenticity and significance of these transcripts, for example the status of Kant's lectures on logic and anthropology, while others shed light on the historical formation of specific writings, for instance the texts on the philosophy of religion.
The contributions provide new insights into Kant's philosophy, that, if looking at Kant's published writings alone, we would not be able to gain. In a number of cases, a critical analysis of Kant's lectures gives us a better understanding of his published works. Thus his lectures on metaphysics shed new light on his Critique of Pure Reason, while the lecture on natural law is a valuable source for the understanding of his published legal writings.
B. Dörflinger, Trier; C. La Rocca, Genua; R. Louden, Southern Maine, Portland, ME; U. R. de A. Marques, Marìlia; M. Ruffing, Mainz.
xiv, 288 pages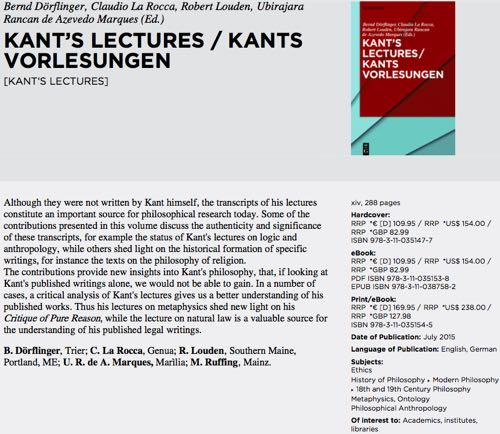 Hardcover:
RRP *€ [D] 109.95 / RRP *US$ 154.00 / RRP *GBP 82.99
ISBN 978-3-11-035147-7
eBook:
RRP *€ [D] 109.95 / RRP *US$ 154.00 / RRP *GBP 82.99
PDF ISBN 978-3-11-035153-8
EPUB ISBN 978-3-11-038758-2
Print/eBook:
RRP *€ [D] 169.95 / RRP *US$ 238.00 / RRP *GBP 127.98
ISBN 978-3-11-035154-5
Date of Publication: July 2015
Language of Publication: English, German
Subjects:
Ethics
History of Philosophy u Modern Philosophy u 18th and 19th Century Philosophy Metaphysics, Ontology
Philosophical Anthropology
Of interest to: Academics, institutes, libraries
Revista Estudos Kantianos
http://www.marilia.unesp.br/#!/departamentos/dfil/cpek/revista-estudos-kantianos
Chamada para Publicação – Revista Estudos Kantianos, UNESP
Número especial – "A Psicologia em Kant: Sobre os fundamentos de uma ciência do sujeito"
No período entre 30 de março de 2015 e 10 de setembro de 2015, data limite de envio de textos, a Revista Estudos Kantianos receberá propostas de publicação de artigos sobre o tema: "A Psicologia em Kant: Sobre os fundamentos da ciência do sujeito". As propostas aprovadas serão publicadas no fascículo especial previsto para dezembro de 2015. O âmbito temático compreende as relações de Kant com a longa tradição da Psicologia Racional e da Psicologia Empírica, desde a Antiguidade até à Filosofia Moderna, bem como o contributo e a herança de Kant no que concerne a definição epistemológica da Psicologia no sistema das ciências, nomeadamente na sua articulação com a Física, a Ética e a Antropologia.
O material para submissão deverá ser anexado [em formato "Word"] a mensagem eletrônica remetida exclusivamente ao endereço: cpek@marilia.unesp.br, tendo como "assunto": "Estudos Kantianos".
Solicita-se que artigos, resenhas e traduções não ultrapassem o total de 30 páginas, digitalizadas em fonte "Times New Roman", com espaçamento 1.5, tamanho "12" para o corpo do texto, "11" para as citações acima de três linhas [as quais deverão ter recuo de 4cm da margem esquerda] e "10" para as notas de rodapé.
Para os artigos enviados, título, resumo, palavras-chave e pequena nota autobiográfica de seu autor devem ter versão em português e em inglês, quando os mesmos sejam escritos numa destas duas línguas. Para artigos redigidos em alemão, espanhol, francês e italiano, aqueles mesmos itens devem ter versão nessas respectivas línguas e também em inglês.
Se no prazo de cinco dias corridos não houver notificação de recebimento do material enviado, solicita-se ao remetente do mesmo entrar em contato com o editor da revista pelo seguinte endereço eletrônico: ubirajara.rancan@gmail.com.
Todo material submetido à revista será examinado por ao menos dois pareceristas, aos quais não será revelada a autoria do mesmo. Estudos Kantianos publicará artigos, resenhas e traduções cujos autores já tenham o grau acadêmico do doutorado.