Kant e-Prints
Série 2, v. 12, n. 2 (especial), maio-ago., 2017
O presente Número Especial da Revista Kant E-Prints apresenta Dossiê que reúne trabalhos apresentados em dois eventos acadêmicos com interesse comum pelas noções kantianas de "intuição" e "objetividade", e direcionados mais especificamente aos conceitos de "Fenômeno" [Phaenomena], "Aparecimento" [Erscheinung] e "Aparência"/ "mero Aparecer" [Schein]. O primeiro evento, a VII Jornada de Metafísica e Conhecimento, foi promovido pelo PPG-Fil da Unioeste na cidade de Toledo/PR em 17 de agosto de 2015 e o segundo, o III Colóquio Kant UFU, foi promovido pelo Grupo de Estudo e Pesquisa "Investigações sobre a Filosofia Kantiana e suas Influências" na cidade de Uberlândia/MG em 27 e 28 de setembro de 2017 com o apoio da FAPEMIG, tendo ocorrido durante a 1ª Bienal Internacional de Filosofia de Uberlândia do Instituto de Filosofia da UFU. O gérmen destes eventos foi projetado no ano de 2014, quando Luciano C. Utteich (UNIOESTE/PR) e Olavo Calabria (UFU/MG) identificaram estes temas como sendo de interesse comum em suas pesquisas de estágios pós-doutorais em Duisburg e Mainz, respectivamente. Desde então, para nossa satisfação e honra esta iniciativa veio incorporando um relevante conjunto de colegas com pesquisas afins.
https://www.cle.unicamp.br/eprints
Caras leitoras(es), autoras(es) e demais colaboradoras(es) da Kant e-Prints:
Em 2015 a revista passou para uma nova plataforma, o que possibilitou uma melhoria no projeto gráfico, com padrões mais atuais de editoração, dando maior transparência à política desenvolvida pelo Corpo Editorial e tornando mais acessível a produção teórica publicada pela revista. Informamos que as novas regras para submissões de trabalhos, seguindo padrões internacionais de citação das obras de Kant e critérios específicos de apresentação e formatação de textos, encontram-se na seção Submissões. Pedimos que leiam atentamente às novas Diretrizes para Autores, que deverão ser seguidas rigorosamente. Para melhor aproveitamento do conteúdo disponibilizado, solicitamos que efetuem o Cadastro na revista. Em caso de sugestões, dúvidas, problemas para navegar, baixar ou visualizar páginas e arquivos, favor entrar em Contato com a Equipe Editorial.
http://www.cle.unicamp.br/eprints/index.php/kant-e-prints/index
Kant Multilateral Colloquia
Site dos colóquios multilaterais kantianos:
http://word.emerson.edu/kantmultilateralcolloquia/
It's our pleasure to announce that Con-textos Kantianos issue 4 is already available at the following link:
http://www.con-textoskantianos.net/index.php/revista/issue/view/8/showToc
—————————— ——————-
Nos complace comunicarte que el número 4 de la revista Con-textos Kantianos ya está disponible en el siguiente enlace:
http://www.con-textoskantianos.net/index.php/revista/issue/view/8/showToc
Kant's Shorter Writings – Critical Paths Outside the Critiques (Cambridge, 2016)
Editors:
Robert Hanna, Robert Louden, Rafael V. Orden Jiménez, Jacinto Rivera de Rosales, Nuria Sánchez Madrid
http://www.cambridgescholars.com/kants-shorter-writings
Contributors:
Alba Jimenez, Alberto Pirni, Anselmo Aportone, Gaetano Chiurazzi, Maria Borges, Julio Esteves, Andrea Faggion, Antonino Falduto, Francesca Fantasia, Helke Panknin-Schappert, Robert Hanna, Robert Hanna, Joel T. Klein, Gustavo Leyva, Gualtiero Lorini, Robert Louden, Ferdinando L. Marcolungo, Macarena Marey, Margit Ruffing, Giovanni Panno, Francesco V. Tommasi, Paolo Pecere, Davide Poggi, Marita Rainsborough, Jacinto Rivera de Rosales, Fernando Silva, Soledad Garcia Ferrer, Francesco V. Tommasi, Federica Trentani, Renato Valois, Sandra Zakutna, Roberto R. Aramayo, Nuria Sánchez Madrid, Gonzalez Fisac
ISBN-13: 978-1-4438-9930-7
ISBN-10: 1-4438-9930-5
Date of Publication: 01/11/2016
Pages / Size: 498 / A5
Price: £63.99
Book Description
This collection highlights the importance of Kant's shorter writings, which span the entire intellectual career of this seminal thinker. It contrasts with other philosophical studies of Kant's work, which typically focus on a specific period of his career, and on either his theoretical philosophy or his practical philosophy.
These shorter works offer a framework for understanding several central questions of critical philosophy in the context of Kant's complete corpus of writings. As such, this volume provides a ground-breaking approach to contemporary Kant studies by offering a new interpretive perspective to enable Kant scholars to advance their research projects. At the same time, it allows a general overview of Kant's work for a broader non-scholarly audience interested in his critical philosophy and its context.
CTK E-BOOKS
CTK E-Books will publish cutting-edge Kant-related individual and collective essays and commented translations of Kant's Writings, in Spanish, German, English, French, Italian and Portuguese. The main editors of the four series of the publishing house will intensively care about the quality of CTK publishing. Before submitting any manuscript, authors and editors of collective volumes are kindly ask to send the corresponding main editor a summary of the proposal, with a table of matters and, if necessary, a list of authors with the abstract of their chapters. All submitted manuscripts will go through a fast and responsive peer review process, which will involve an international board of prestigious senior Kant scholars. If the peer review process recommends publication, we will then proceed to the formal approval stage, submitting a summary of the proposal to some members of CTK E-Books Advisory Board, whose function will be to endorse the peer reviewer's recommendation and to convey additional remarks. The main editors of each series will keep the authors and editors posted about the steps of this stage.
If the proposal is definitively approved, the main editors will contact authors or editors to agree and sign the contract. A copy of CTK E-Books style guide will also be sent to authors or editors at this stage. The books published by CTK E-Books might be printed on demand. Submissions should be sent to the following e-mail: contextoskantianos@gmail.com
Advisory Board
Maria Lourdes Borges (UFSC, Brazil)
Alix Cohen (Univ. of Edinburgh, UK)
Bernd Dörflinger (Univ. of Trier, Germany)
Claudia Jáuregui (UBA, Argentina)
Robert Louden (Univ. of Southern Maine, USA)
Carlos Mendiola (Univ. Iberoamericana, Mexico)
Pablo Oyarzún (Univ. of Chile, Chile)
Lisímaco Parra (Univ. Nacional de Colombia, Colombia) Hernán Pringe (UBA, Argentina)
Gérard Raulet (Univ. Paris IV, France)
Paulo Tunhas (Univ. of Porto, Portugal)
Howard Williams (Univ. of Aberystwyth, UK)
Editorial Board and E-Book Series
Roberto R. Aramayo (IFS/CSIC, Spain) — Main Editor of the Translatio Kantiana Series
María Julia Bertomeu (Univ. Nacional de La Plata, Argentina) — Main Editor of Quaestiones Kantianas Series
Nuria Sánchez Madrid (UCM, Spain) — Main Editor of Hermeneutica Kantiana Series (Monographies and Individual Essays)
Pablo Muchnik (Emerson College, USA) — Main Editor of Dialectica Kantiana Series (Collective Volumes)
1. Translatio Kantiana E-Book Series
The Translatio Kantiana Series seeks to make available to Kant scholars and PhD students commented translations of different Kant's Writings into Spanish, German, English, French, Italian and Portuguese.
2. Quaestiones Kantianas E-Book Series
Quaestiones Kantianas aims at retrieving classical interpretative essays focusing on different features of Kant's thought and work, in their original language or translated for broadening the scope of some of these essays.
3. Hermeneutica Kantiana E-Book Series
Hermeneutica Kantiana Series seeks proposals that will bring to a multilingual audience interpreting essays regarding all areas of Kant's critical thought.
4. Dialectica Kantiana E-Book Series
Dialectica Kantiana Series enhances discussing essays of the Kantian legacy, gathered in collective volumes, focusing on subjects tackling key ethical, political and social challenges that may help us to better assess the problems of our present time.
Revista Con-Textos Kantianos, n. 2 (2015)
http://con-textoskantianos.net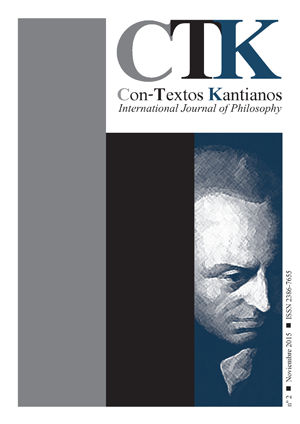 Temos o prazer de anunciar a publicação pela Editora Olms – Wiedmann (Hildesheim-Zürich-New York) do livro Kant and the metaphors of reason, organizado pelas professoras do Departamento de Filosofia da UFMG Patrícia Kauark-Leite, Giorgia Cecchinato, Virginia Figueiredo e Alice Serra; e pela professora Margit Ruffing da Universität Mainz (Alemanha).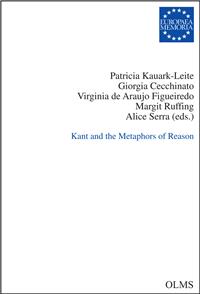 O livro resulta da recente iniciativa de um grupo internacional formado por filósofos e estudiosos da obra de Kant, incluindo muitos membros da SKB, que vêm se reunindo para promover a investigação de tópicos ainda inexplorados pela pesquisa acadêmica, como é o caso da metáfora na filosofia kantiana, tema ao qual o livro que se dedica.
http://www.olms.de/search/Detail.aspx?pr=2008522
Bernd Dörflinger, Claudio La Rocca, Robert Louden, Ubirajara Rancan de Azevedo Marques (Ed.)
KANT'S LECTURES / KANTS VORLESUNGEN
[KANT'S LECTURES]
http://www.degruyter.com/view/product/260919
Although they were not written by Kant himself, the transcripts of his lectures constitute an important source for philosophical research today. Some of the contributions presented in this volume discuss the authenticity and significance of these transcripts, for example the status of Kant's lectures on logic and anthropology, while others shed light on the historical formation of specific writings, for instance the texts on the philosophy of religion.
The contributions provide new insights into Kant's philosophy, that, if looking at Kant's published writings alone, we would not be able to gain. In a number of cases, a critical analysis of Kant's lectures gives us a better understanding of his published works. Thus his lectures on metaphysics shed new light on his Critique of Pure Reason, while the lecture on natural law is a valuable source for the understanding of his published legal writings.
B. Dörflinger, Trier; C. La Rocca, Genua; R. Louden, Southern Maine, Portland, ME; U. R. de A. Marques, Marìlia; M. Ruffing, Mainz.
xiv, 288 pages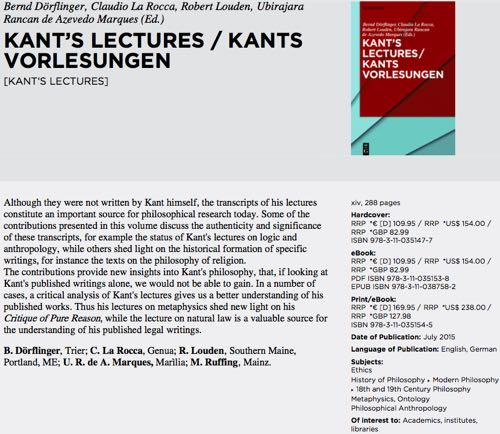 Hardcover:
RRP *€ [D] 109.95 / RRP *US$ 154.00 / RRP *GBP 82.99
ISBN 978-3-11-035147-7
eBook:
RRP *€ [D] 109.95 / RRP *US$ 154.00 / RRP *GBP 82.99
PDF ISBN 978-3-11-035153-8
EPUB ISBN 978-3-11-038758-2
Print/eBook:
RRP *€ [D] 169.95 / RRP *US$ 238.00 / RRP *GBP 127.98
ISBN 978-3-11-035154-5
Date of Publication: July 2015
Language of Publication: English, German
Subjects:
Ethics
History of Philosophy u Modern Philosophy u 18th and 19th Century Philosophy Metaphysics, Ontology
Philosophical Anthropology
Of interest to: Academics, institutes, libraries
Revista Estudos Kantianos
http://www.marilia.unesp.br/#!/departamentos/dfil/cpek/revista-estudos-kantianos
Chamada para Publicação – Revista Estudos Kantianos, UNESP
Número especial – "A Psicologia em Kant: Sobre os fundamentos de uma ciência do sujeito"
No período entre 30 de março de 2015 e 10 de setembro de 2015, data limite de envio de textos, a Revista Estudos Kantianos receberá propostas de publicação de artigos sobre o tema: "A Psicologia em Kant: Sobre os fundamentos da ciência do sujeito". As propostas aprovadas serão publicadas no fascículo especial previsto para dezembro de 2015. O âmbito temático compreende as relações de Kant com a longa tradição da Psicologia Racional e da Psicologia Empírica, desde a Antiguidade até à Filosofia Moderna, bem como o contributo e a herança de Kant no que concerne a definição epistemológica da Psicologia no sistema das ciências, nomeadamente na sua articulação com a Física, a Ética e a Antropologia.
O material para submissão deverá ser anexado [em formato "Word"] a mensagem eletrônica remetida exclusivamente ao endereço: cpek@marilia.unesp.br, tendo como "assunto": "Estudos Kantianos".
Solicita-se que artigos, resenhas e traduções não ultrapassem o total de 30 páginas, digitalizadas em fonte "Times New Roman", com espaçamento 1.5, tamanho "12" para o corpo do texto, "11" para as citações acima de três linhas [as quais deverão ter recuo de 4cm da margem esquerda] e "10" para as notas de rodapé.
Para os artigos enviados, título, resumo, palavras-chave e pequena nota autobiográfica de seu autor devem ter versão em português e em inglês, quando os mesmos sejam escritos numa destas duas línguas. Para artigos redigidos em alemão, espanhol, francês e italiano, aqueles mesmos itens devem ter versão nessas respectivas línguas e também em inglês.
Se no prazo de cinco dias corridos não houver notificação de recebimento do material enviado, solicita-se ao remetente do mesmo entrar em contato com o editor da revista pelo seguinte endereço eletrônico: ubirajara.rancan@gmail.com.
Todo material submetido à revista será examinado por ao menos dois pareceristas, aos quais não será revelada a autoria do mesmo. Estudos Kantianos publicará artigos, resenhas e traduções cujos autores já tenham o grau acadêmico do doutorado.