Bernd Dörflinger, Claudio La Rocca, Robert Louden, Ubirajara Rancan de Azevedo Marques (Ed.)
KANT'S LECTURES / KANTS VORLESUNGEN
[KANT'S LECTURES]
http://www.degruyter.com/view/product/260919
Although they were not written by Kant himself, the transcripts of his lectures constitute an important source for philosophical research today. Some of the contributions presented in this volume discuss the authenticity and significance of these transcripts, for example the status of Kant's lectures on logic and anthropology, while others shed light on the historical formation of specific writings, for instance the texts on the philosophy of religion.
The contributions provide new insights into Kant's philosophy, that, if looking at Kant's published writings alone, we would not be able to gain. In a number of cases, a critical analysis of Kant's lectures gives us a better understanding of his published works. Thus his lectures on metaphysics shed new light on his Critique of Pure Reason, while the lecture on natural law is a valuable source for the understanding of his published legal writings.
B. Dörflinger, Trier; C. La Rocca, Genua; R. Louden, Southern Maine, Portland, ME; U. R. de A. Marques, Marìlia; M. Ruffing, Mainz.
xiv, 288 pages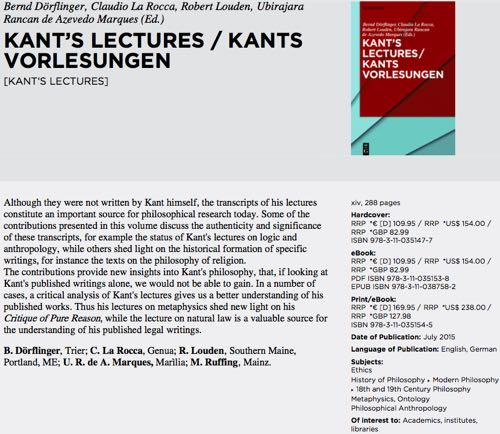 Hardcover:
RRP *€ [D] 109.95 / RRP *US$ 154.00 / RRP *GBP 82.99
ISBN 978-3-11-035147-7
eBook:
RRP *€ [D] 109.95 / RRP *US$ 154.00 / RRP *GBP 82.99
PDF ISBN 978-3-11-035153-8
EPUB ISBN 978-3-11-038758-2
Print/eBook:
RRP *€ [D] 169.95 / RRP *US$ 238.00 / RRP *GBP 127.98
ISBN 978-3-11-035154-5
Date of Publication: July 2015
Language of Publication: English, German
Subjects:
Ethics
History of Philosophy u Modern Philosophy u 18th and 19th Century Philosophy Metaphysics, Ontology
Philosophical Anthropology
Of interest to: Academics, institutes, libraries
Colóquio Kant de Marília: Kant's Vorlesungen
August, 19-23, 2013
UNESP/Marília-SP
The annual meeting happens in Marília, São Paulo. It is the official meeting of the CPEK – Centro de Pesquisas e Estudos Kantianos "Valerio Rohden".
Participants and complete institutional affiliation [can be modified]:
Alberto Pirni – Scuola Superiore Sant'Anna/Pisa
Andrea Faggion – Universidade Estadual de Londrina (UEL)
Bernd Dörflinger – Universität Trier
Catalina González – Universidad de Los Andes
Claudio La Rocca – Università di Genova
Clélia Martins – Universidade Estadual Paulista (UNESP)
Giuseppe Micheli – Università di Padova
Gualtiero Lorini – Università Cattolica di Brescia
Günter Zöller – Universität München
Heiner Klemme – Universität Mainz
Jacinto Rivera de Rosales Chacón – Universidad Nacional de Educación a Distancia
Jean-Christophe Merle – Université de Nancy
João Carlos Brum Torres – Universidade de Caxias do Sul (UCS)
Joãosinho Beckenkamp – Universidade Federal de Minas Gerais (UFMG)
José Oscar de Almeida Marques – Univesidade Estadual de Campinas (UNICAMP)
Juan Bonaccini – Universidade Federal de Pernambuco (UFPE)
Julio Esteves – Universidade Estadual do Norte Fluminense (UENF)
Leonel Ribeiro dos Santos – Universidade de Lisboa
Margit Ruffing – Universität Mainz
Nuria Sánchez Madrid – Universidad Complutense de Madrid
Pedro da Costa Rego – Universidade Federal do Rio de Janeiro (UFRJ)
Robert Louden – University of Southern Maine
Sílvia Altmann – Universidade Federal do Rio Grande do Sul (UFRGS)
Ubirajara Rancan – Universidade Estadual Paulista (UNESP)
Werner Euler – Universidade Federal de Santa Catarina (UFSC)
Additional information: cpek@marilia.unesp.br