Studia Kantiana n. 22 (2016)
Revista da Sociedade Kant Brasileira
Journal of the Brazilian Kant Society
http://www.sociedadekant.org/studiakantiana
ISSN Impresso: 1518-403X
ISSN Eletrônico: 2317-7462
Qualis-CAPES: A2
Artigos
'Transformação total': Por que Kant não desistiu da educação
Robert Louden
Transcendentalidade, mundo e certeza em Kant e Wittgenstein
Nuria Sánchez Madrid
O conceito de númeno na Crítica da razão prática: uma exigência paradoxal
Monique Hulshof
Some Remarks on Kant's Concept of an a priori History
Ileana Beade
Felicidade e moralidade na ética de Kant: oposições e conciliações
Luís Eduardo Ramos de Souza
Origens e antecedentes da intuição pura do espaço em Kant (1768-1769)
Lucas Alessandro Duarte Amaral
Sobre a dinâmica das faculdades e a "comoção" da lei moral
Alexandre Medeiros de Araújo
It's our pleasure to announce that Con-textos Kantianos issue 4 is already available at the following link:
http://www.con-textoskantianos.net/index.php/revista/issue/view/8/showToc
—————————— ——————-
Nos complace comunicarte que el número 4 de la revista Con-textos Kantianos ya está disponible en el siguiente enlace:
http://www.con-textoskantianos.net/index.php/revista/issue/view/8/showToc
Kant's Shorter Writings – Critical Paths Outside the Critiques (Cambridge, 2016)
Editors:
Robert Hanna, Robert Louden, Rafael V. Orden Jiménez, Jacinto Rivera de Rosales, Nuria Sánchez Madrid
http://www.cambridgescholars.com/kants-shorter-writings
Contributors:
Alba Jimenez, Alberto Pirni, Anselmo Aportone, Gaetano Chiurazzi, Maria Borges, Julio Esteves, Andrea Faggion, Antonino Falduto, Francesca Fantasia, Helke Panknin-Schappert, Robert Hanna, Robert Hanna, Joel T. Klein, Gustavo Leyva, Gualtiero Lorini, Robert Louden, Ferdinando L. Marcolungo, Macarena Marey, Margit Ruffing, Giovanni Panno, Francesco V. Tommasi, Paolo Pecere, Davide Poggi, Marita Rainsborough, Jacinto Rivera de Rosales, Fernando Silva, Soledad Garcia Ferrer, Francesco V. Tommasi, Federica Trentani, Renato Valois, Sandra Zakutna, Roberto R. Aramayo, Nuria Sánchez Madrid, Gonzalez Fisac
ISBN-13: 978-1-4438-9930-7
ISBN-10: 1-4438-9930-5
Date of Publication: 01/11/2016
Pages / Size: 498 / A5
Price: £63.99
Book Description
This collection highlights the importance of Kant's shorter writings, which span the entire intellectual career of this seminal thinker. It contrasts with other philosophical studies of Kant's work, which typically focus on a specific period of his career, and on either his theoretical philosophy or his practical philosophy.
These shorter works offer a framework for understanding several central questions of critical philosophy in the context of Kant's complete corpus of writings. As such, this volume provides a ground-breaking approach to contemporary Kant studies by offering a new interpretive perspective to enable Kant scholars to advance their research projects. At the same time, it allows a general overview of Kant's work for a broader non-scholarly audience interested in his critical philosophy and its context.
XIIIe Congrès international
de la Société d'Études Kantiennes de Langue Française
13-15 septembre 2017
« Kant et l'humain :
Géographie, psychologie, anthropologie »
Lettre circulaire – Appel à communications
Chère Collègue, cher Collègue,
Nous avons le plaisir de vous inviter à prendre part au XIIIe Congrès international de la Société d'Études Kantiennes de Langue Française, qui aura lieu du 13 au 15 septembre 2017 à l'Université Portucalense, Porto (Portugal).
Ce XIIIe Congrès sera consacré à l'examen des figures kantiennes de l'humain et des sciences qui, selon Kant, font de l'humain leur objet fondamental, notamment la géographie, la psychologie et l'anthropologie.
Il s'agira d'étudier et d'interroger à la fois : 1) le sens kantien de l'humain ou de l'huma¬nité (en tant qu'espèce et en tant que « personnalité »), dont l'élucidation convoque l'histoire de la philosophie et de la culture européenne ; 2) la primauté de la signi¬fication « cosmique », cosmopolitique et éthique de l'humain dans le cadre de la philo¬sophie pratique de Kant ; 3) le statut épistémologique de la géographie, de la psycho¬logie et de l'anthropologie en tant que « sciences kantiennes de l'humain » ; 4) l'héri¬tage kantien en ces domaines dans la pensée actuelle.
Les communications auront une durée maximale de 30 minutes, et chaque groupe thématique de communications sera suivi d'une discussion de 30 minutes.
Nous vous remercions de bien vouloir adresser le titre de votre communication, accompagné d'un résumé de cinq à dix lignes jusqu'au 30 avril 2017, soit par voie électronique (seklf2017@gmail.com), soit par voie postale : Paulo Jesus, Universidade Portucalense, Rua Dr. António Bernardino de Almeida, nº 541, 4200-072 Porto, Portugal.
À l'issue du Congrès, une publication des Actes est prévue sous forme d'un ouvrage collectif, après révisions et corrections. En vue de préparer les communications orales ainsi que la future publication des Actes et afin d'harmoniser la présentation du volume, nous demandons à chaque contributeur de bien vouloir donner, pour chaque texte cité de Kant, dans une note de bas de page, la double référence suivante :
1) pour le texte allemand à l'édition de l'Académie de Berlin (volume en chiffres romains, page en chiffres arabes ; ex : AK III, 21),
2) pour la traduction française à l'édition de la Pléiade (Kant, Œuvres philosophiques, Paris, Gallimard, en 3 volumes, 1980-1986 ; volume en chiffres romains, page en chiffres arabes ; ex : OP II, 143), chaque fois que cela est possible. Pour les ouvrages non traduits ou seulement partiellement traduits dans la « Biblio-thèque de la Pléiade », chaque contributeur précisera, outre la référence à l'Académie, la traduction qu'il a choisie.
Prochainement, nous vous annoncerons la création d'une page web avec des renseignements utiles concernant votre voyage et votre séjour à Porto.
Dans l'attente de vos réponses, et en espérant vous voir nombreuses et nombreux à Porto, nous vous prions d'agréer, cher(e)s collègues, nos plus cordiales salutations.
Paulo Jesus
Au nom du Comité d'organisation :
Diogo Sardinha (Univ. de Lisbonne et Collège international de philosophie)
Fernando Silva (Centre de philosophie de l'université de Lisbonne)
Gualtiero Lorini (Centre de philosophie de l'université de Lisbonne)
Leonel Santos (Centre de philosophie de l'université de Lisbonne)
Núria Sánchez Madrid (Univ. Complutense de Madrid)
Paulo Tunhas (Institut de philosophie de l'université de Porto)
Roberto Aramayo (Instituto de Filosofía del Consejo Superior de Investigaciones Científicas, Madrid)
Sofia Miguens (Institut de philosophie de l'université de Porto)
Soraya Nour (Centre de philosophie de l'université de Lisbonne et Collège international de philosophie, Paris)
Comité scientifique : Jean Ferrari, Sophie Grapotte, Mai Lequan, Evangelos Moutsopoulos, Claude Piché, Margit Ruffing, Gerhard Seel, Ingeborg Schüssler, Ricardo Terra, Robert Theis.
À Porto, le 3 septembre 2016
Já se encontram publicados no site da Studia Kantiana os números 20 e 21 relativos aos meses de abril e agosto de 2016: (http://www.sociedadekant.org/studiakantiana/index.php/sk/issue/archive)
A revista recebe artigos em fluxo contínuo e submissões feitas até meados de outubro ainda poderão, dependendo dos pareceristas, compor o volume 22 relativo ao mês de dezembro de 2016. Os artigos podem ser submetidos via sistema da revista, mediante prévio cadastro, ou diretamente para o editor da revista, no email jthklein@yahoo.com.br
Todos os membros da SKB estão convidados para considerarem a Studia Kantiana como meio de divulgação dos seus trabalhos. Atualmente ela se encontra avaliada com qualis A2, mas se pôs em andamento uma política que pretende não apenas manter essa qualificação, como também almejar uma avaliação A1 nos próximos anos. Para isso a contribuição de todos é muito bem-vinda.
Cordialmente,
Joel Klein
Editor da Studia Kantiana
Estudos Kantianos, v. 4, n. 1 (2016)
http://revistas.marilia.unesp.br/index.php/ek/issue/view/379/showToc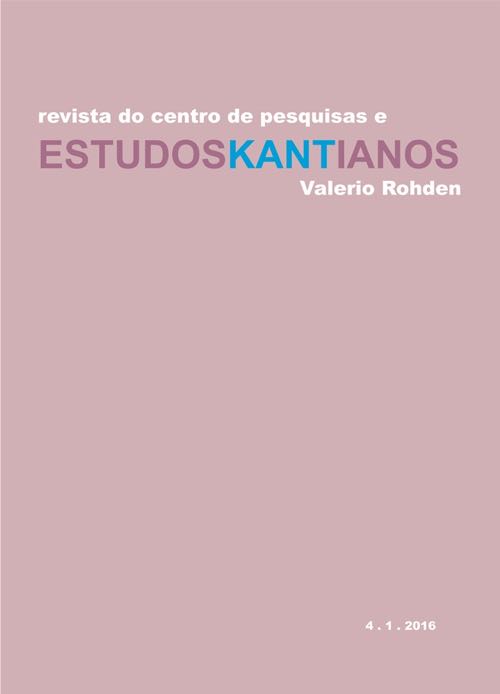 Sumário
Notas Editorial/Editor's Note
PALAVRAS DO EDITOR
Giorgia CECCHINATO, Federico FERRAGUTO
Introdução/Introduction
INTRODUÇÃO
Giorgia CECCHINATO, Federico FERRAGUTO
Artigos/Articles

NATURA E RIVELAZIONE IL CONCETTO DI FINE NEL SAGGIO DI UNA CRITICA DI OGNI RIVELAZIONE DI J.G. FICHTE. UNA RILETTURA FICHTEANA DI KANT
Federico FERRAGUTO
NOTAS SOBRE INTUIÇÃO, CONCEITO E REFLEXÃO: FICHTE E A ANFIBOLIA DA PRIMEIRA CRÍTICA
João Geraldo Martins da CUNHA
DE VOLTA A KANT? A FENOMENOLOGIA TRANSCENDENTAL TARDIA DE FICHTE
Christoph BINKELMANN
LIBERDADE COMO PRINCÍPIO POLÍTICO: OS PRIMEIROS PRONUNCIAMENTOS DE KANT E FICHTE SOBRE A REVOLUÇÃO
Emanuele TREDANARO
SOBRE LA HUELLA DE KANT EN LA DOCTRINA DEL DERECHO BERLINESA DE FICHTE
Marco Rampazzo BAZZAN
FICHTE EM DEBATE COM SCHILLER ACERCA DA HERANÇA DA CRITICA DO JUÍZO
Giorgia CECCHINATO
POR QUE REJEITOU KANT EXPLICAÇÕES FISIOLÓGICAS NA SUA ANTROPOLOGIA?
Thomas STURM
SE NON ESISTESSE UN LUOGO DOVE STARE AL SICURO? TERREMOTO E SUBLIME: DAGLI SCRITTI PRE-CRITICI ALLA KRITIK DER URTEILSKRAFT DAVIDE
Davide POGGI, Niccolò CARAMEL
RAWLS LEITOR DE KANT
Walter Valdevino Oliveira SILVA
GIUSEPPE ZAMBONI INTERPRETE DI KANT
Ferdinando Luigi MARCOLUNGO
VIIth MULTILATERAL KANT COLLOQUIUM 2017: CALL FOR PAPERS
The Immanuel-Kant-Forum at Martin-Luther-University Halle-Wittenberg (MLU), in collaboration with "Kant-Gesellschaft", "Aufklärung – Religion – Wissen" (MLU), "Interdisciplinary Center for the European Enlightenment" (MLU) and "Kant- Forschungsstelle at Johannes Gutenberg-University Mainz", invites submission for the VIIth Kant Multilateral Colloquium to take place at Halle/Saale (Germany) on April 28-30, 2017. The day of arrival is April 27, the day of departure May 1.
The theme of the colloquium is: Kant und seine Kritiker – Kant and his critics – Kant et ses critiques. Papers may include discussions of any aspect of Kant's philosophy and its critique from Kant's time to the present.
The Multilateral Colloquium involves approximately fifty five participants, about 15 of them will be invited presentations. The official languagues are German, English, and French; however, participants can choose to present their papers in Portuguese, Spanish, or Italian, provided a version in one of the official languages is available, too. Due to the traditionally multilateral dimension of the Kant Colloquium and its origin, the selection committee is particularly interested in submissions from participants working in South America, Portugal, Spain, and Italy.
The selection committee is an international group of Kant-scholars and is chaired by Professor Heiner F. Klemme (MLU).
The deadline for submissions is October 1, 2016. Notices of acceptance will be issued by December 1, 2016. Please send all papers electronically to Dr. Antonino Falduto at Antonino.Falduto@phil.uni-halle.de
Submissions should be prepared for blind review and be limited to 4400 words, including footnotes and references (longer submissions will not be considered). Please send your file in PDF format, include an abstract of a maximum of 400 words, and a word count at the end of the paper. Contact information should be sent in a separate Word or RTF file.
Presentations cannot exceed 50 minutes (30-35 minutes reading time, followed by 15-20 minutes of discussion).
There will be conference fee of € 30,-
Kant Multilateral Colloquium
The North American Kant Society welcomes the Kant Multilateral Colloquium, to take place at Hofstra University (Hempstead, NY) on August 7-9, 2016.
http://www.hofstra.edu/community/culctr/kant-multilateral-colloquium.html
The theme of the meeting is: Kant on Violence, Revolution, and Progress: Historical, Political, and Metaphysical Themes. "Revolution" and "progress" are interpreted broadly, in order to include not only their historical or political meaning, but also Kant's "Copernican Revolution" in metaphysics, science, aesthetics, religion, etc.
The Multilateral Colloquium is an annual conference involving approximately forty participants from Brazil, Spain, Portugal, Italy, Germany, and, more recently, the USA and Russia. This is the first time the meeting will be hosted in the USA. Each of the seven participating countries will be assured up to five slots for speakers.
The North American Kant Society (NAKS) was founded in 1985 at the Sixth International Kant Congress, held at the Pennsylvania State University. The goal of the society is to further the study of Kantian thought and scholarship from a variety of traditions and disciplines. For this purpose, we organize multiple activities (regional study groups, APA meetings, publications, prizes, etc.), which help students and scholars at different stages of their careers to interact and share their work in an atmosphere of both cordiality and philosophical rigor.
Hofstra University is a nationally ranked and recognized private university in Hempstead, N.Y. that is one of only two universities chosen to host consecutive presidential debates (2008 and 2012). At Hofstra, students get the best of both worlds. Our campus is a leafy oasis just a quick train ride away from New York City and all its cultural, recreational and professional opportunities. We offer small classes and personal attention, with the resources, technology and facilities of a large university, including the Maurice A. Deane School of Law, the Hofstra Northwell School of Graduate Nursing and Physician Assistant Studies, and the Hofstra Northwell School of Medicine. Hofstra University is a dynamic community of more than 11,000 students from around the world who are dedicated to civic engagement, academic excellence and becoming leaders in their communities and their careers.
CTK E-BOOKS
CTK E-Books will publish cutting-edge Kant-related individual and collective essays and commented translations of Kant's Writings, in Spanish, German, English, French, Italian and Portuguese. The main editors of the four series of the publishing house will intensively care about the quality of CTK publishing. Before submitting any manuscript, authors and editors of collective volumes are kindly ask to send the corresponding main editor a summary of the proposal, with a table of matters and, if necessary, a list of authors with the abstract of their chapters. All submitted manuscripts will go through a fast and responsive peer review process, which will involve an international board of prestigious senior Kant scholars. If the peer review process recommends publication, we will then proceed to the formal approval stage, submitting a summary of the proposal to some members of CTK E-Books Advisory Board, whose function will be to endorse the peer reviewer's recommendation and to convey additional remarks. The main editors of each series will keep the authors and editors posted about the steps of this stage.
If the proposal is definitively approved, the main editors will contact authors or editors to agree and sign the contract. A copy of CTK E-Books style guide will also be sent to authors or editors at this stage. The books published by CTK E-Books might be printed on demand. Submissions should be sent to the following e-mail: contextoskantianos@gmail.com
Advisory Board
Maria Lourdes Borges (UFSC, Brazil)
Alix Cohen (Univ. of Edinburgh, UK)
Bernd Dörflinger (Univ. of Trier, Germany)
Claudia Jáuregui (UBA, Argentina)
Robert Louden (Univ. of Southern Maine, USA)
Carlos Mendiola (Univ. Iberoamericana, Mexico)
Pablo Oyarzún (Univ. of Chile, Chile)
Lisímaco Parra (Univ. Nacional de Colombia, Colombia) Hernán Pringe (UBA, Argentina)
Gérard Raulet (Univ. Paris IV, France)
Paulo Tunhas (Univ. of Porto, Portugal)
Howard Williams (Univ. of Aberystwyth, UK)
Editorial Board and E-Book Series
Roberto R. Aramayo (IFS/CSIC, Spain) — Main Editor of the Translatio Kantiana Series
María Julia Bertomeu (Univ. Nacional de La Plata, Argentina) — Main Editor of Quaestiones Kantianas Series
Nuria Sánchez Madrid (UCM, Spain) — Main Editor of Hermeneutica Kantiana Series (Monographies and Individual Essays)
Pablo Muchnik (Emerson College, USA) — Main Editor of Dialectica Kantiana Series (Collective Volumes)
1. Translatio Kantiana E-Book Series
The Translatio Kantiana Series seeks to make available to Kant scholars and PhD students commented translations of different Kant's Writings into Spanish, German, English, French, Italian and Portuguese.
2. Quaestiones Kantianas E-Book Series
Quaestiones Kantianas aims at retrieving classical interpretative essays focusing on different features of Kant's thought and work, in their original language or translated for broadening the scope of some of these essays.
3. Hermeneutica Kantiana E-Book Series
Hermeneutica Kantiana Series seeks proposals that will bring to a multilingual audience interpreting essays regarding all areas of Kant's critical thought.
4. Dialectica Kantiana E-Book Series
Dialectica Kantiana Series enhances discussing essays of the Kantian legacy, gathered in collective volumes, focusing on subjects tackling key ethical, political and social challenges that may help us to better assess the problems of our present time.
Revista Con-Textos Kantianos, n. 2 (2015)
http://con-textoskantianos.net