XII. International Kant Congress | Vienna, Sept. 21st to 25th, 2015 | Call for Papers
Call for Papers
January 1 – September 15, 2014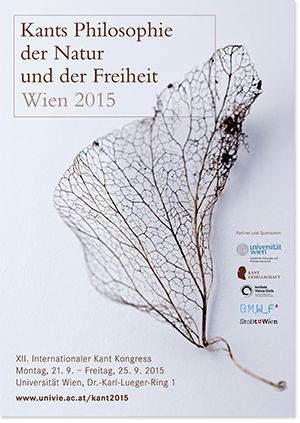 Please submit a full paper, consisting of max. 8 pages (= 20.000 characters, spaces included) as well as an abstract consisting of ½ page (= 1.000 characters, spaces included) and identify the section your paper refers to clearly. Presentations should not exceed 25 minutes. Papers must be suitable for anonymous review. Please refrain from making references to your own work or anything obvious that could reveal your identity.
Authors will be notified of the review outcome not later than March 1, 2015. Participation in the congress is also possible without a paper.
***
Call for Papers
1. Januar bis 15. September 2014
Es wird um Einsendung eines vollständigen Papers mit einer Länge von maximal 8 Seiten (= 20.000 Zeichen inkl. Leerzeichen) sowie eines Abstracts von einer halben Seite (= 1.000 Zeichen inkl. Leerzeichen) gebeten, die eindeutig einer der 21 Sektionen des Kongresses zugeordnet werden müssen. Die Sprechzeit der Vorträge darf 25 Minuten nicht überschreiten. Bitte gestalten Sie Ihren Text – auch hinsichtlich der Zitation – völlig anonym, damit er ohne Identifizierung Ihrer Person beurteilt werden kann.
Nach dem Abschluss des Begutachtungsprozesses werden die BewerberInnen bis spätestens 1. März 2015 über die Annahme oder Ablehnung des Beitrags informiert. Die Teilnahme am Kongress ist auch ohne die Präsentation eines Papiers möglich.
Comments