The Organizing Committee of IV KANT MULTILATERAL COLLOQUIUM has changed the rule regarding the language of the translated text for power-point projection. Instead of presenting the talk translated version only in English, the participant can now choose between the Colloquium official languages the one he/she wants.
The following corrections should be made in the text of CALL FOR PAPERS:
In the fifth paragraph, the second sentence should read:
"Talks can be given in any of these official languages, but a version translated into one of these languages (different from that of the talk) should be provided for power point projection".
Please accept our sincere apologies for any inconvenience this may have caused.
Best regards,
Organizing Committee
***
IV Kant Multilateral Colloquium – Tiradentes, Brazil, August 11 – 14, 2013
Kant and the metaphors of reason
Deadline for submission: April 12, 2013.
sites.google.com/site/ivkantmultilateralcolloquium
XII. Internationaler Kant Kongress – Natur und Freiheit | Wien, 21. – 25 September 2015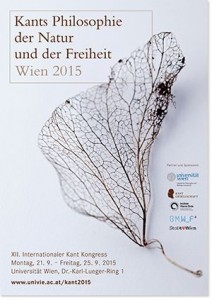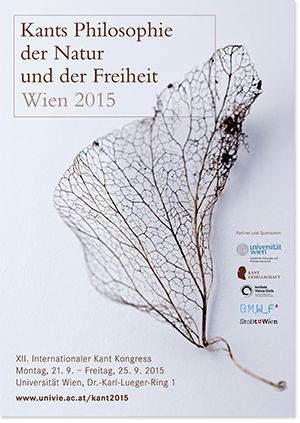 Der 12. Internationale Kant-Kongress in Wien ist dem Antagonismus von Natur und Freiheit gewidmet, der nicht nur zu Kants Zeiten, sondern auch in den Diskussionen von Heute höchst aktuell ist. Unklarer als für die Aufklärung im 18. Jahrhundert ist, wie sehr der Mensch nicht nur von der Natur beherrscht wird, sondern Natur ist und in welchem Maß er tatsächlich durch Freiheit handelt. Die Ressourcen des Kantischen Denkens bieten bedeutende Argumentationspotenziale für die aktuellen interdisziplinären Diskurse der Philosophie mit den Naturwissenschaften, der Medizin, Neurologie und Psychologie, mit den Rechts- und Sozialwissenschaften. Diesen Fragen ist ein Hauptaugenmerk des Kongresses 2015 in Wien gewidmet. Daneben sind drei für Wien spezifische Schwerpunktthemen vorgesehen. Die Schwerpunktthemen sind Kant und der Wiener Kreis, Kant und die Phänomenologie, Kant und seine Dichter. Der Kongress berücksichtigt überdies die Themenvielfalt der Kantischen Philosophie durch Beiträge in den vorgesehenen Sektionen. Die Kongresssprachen sind Deutsch, Englisch und Französisch.
O número 13 (dezembro de 2012) da Studia Kantiana (ISSN 1518-403X), revista da Sociedade Kant Brasileira, encontra-se à venda na rede de sebos ESTANTE VIRTUAL (www.estantevirtual.com.br/q/studia-kantiana) e também pode ser baixado, em pdf, na íntegra ou separadamente, por artigo, abaixo.
Os números 12, 11, 10, 9, 8 e 6/7 também podem ser baixados gratuitamente em www.sociedadekant.org/studia-kantiana.
_____________________________________________
Studia Kantiana
número 13 | dezembro de 2012
[Clique aqui para baixar o número na íntegra (pdf) ou baixe cada artigo separadamente:]
Capa, apresentação e sumário (pdf)
Artigos
Application of the Doctrine of Method in the critical examination of reason – Mario Caimi (pdf)
El problema de la virtud en la ética de Hermann Cohen<
[The problem of virtue in Hermann Cohen's ethics]
Héctor Oscar Arrese Igor (pdf)
O papel do conceito de verdade no julgar: Kant e Frege
[The role of the concept of truth in judging: Kant and Frege]
Dirk Greimann (pdf)
Die Locke der Antinomie: La sortija de la Antinomia
[The curl of the Antinomy]
Soledad García Ferrer (pdf)
Credo quia rationale. Kant sobre a Fé Moral
[Credo quia rationale. Kant on moral faith]
Günter Zöller (pdf)
A Ético-teologia kantiana e o dever para a promoção do Sumo Bem
[Kant's ethicotheology and the duty to promote the highest good]
Bernd Dörflinger (pdf)
Discussão
Ética e Felicidade. Notas para uma revisão reconstrutiva da doutrina kantiana do sumo bem
[Morality and Happiness. Notes for a reconstructive revision of the Kantian doctrine of highest good]
João Carlos Brum Torres (pdf)
Tradução
Kant e a primeira recensão a Herder: comentários, tradução e notas
[Kant and the first critique of Herder: commentary, translation, and notes]
Joel Thiago Klein (pdf
Informações aos colaboradores (pdf)